Thee Phantom - Maestro
Thee Phantom, wrote his first rhyme at the age of 8 and made his first beat by mixing the instrumental from the Beastie Boys' Paul Revere with Beethoven's Fifth Symphony at age 12. The particular movement of Beethoven's 5th entitled, "Destiny", would prove to be both ironic and foretelling for the young musician.
In 2002, Phantom became the first Hip-Hop artist to perform at Philadelphia's prestigious Kimmel Center with musical accompaniment from members of the world-renowned Philadelphia Orchestra and Chamber Orchestra of Philadelphia. Phantom has since formed his own ensemble, dubbed The Illharmonic Orchestra and has toured the United States and Japan.
On November 1, 2015, Thee Phantom backed by his own 25 piece ensemble, took to the stage at the famed Carnegie Hall, becoming just the 3rd Hip-Hop Artist to headline his own show at the esteemed venue.
The Phoenix - Mistress of Ceremony
The Phoenix, is a native of Queens, New York. She grew up immersed in the arts and found a strong appreciation for all genres of music at an early age. As a youth she studied flute, piano, dance and sang in her high school choir. She attended Drexel University in Philadelphia, where she majored in dance, but always kept her passion for music, specifically singing on the back burner.
Phoenix has toured Nationally and Internationally as a vocalist and MC and is featured on Phantom's albums, "Hero Complex", "Making Of An Underdog" and "Maniac Maestro".
With an eye toward helping others reach their dreams, Phoenix and Phantom have raised over $10,000 for the VH1 Save the Music Foundation.
DJ Philly C - turntablist
Fell in love with music at a very young age. While the other kids were playing sports, board games, or breaking things at family events, you could find young Phil following his older brother, cousins, and uncle in and out of back rooms, home offices, and even guest bedrooms that were turned into makeshift DJ booths. His mentors went on to headline larger events - from birthday parties, anniversary celebrations, communions and Christenings, all the way up to large scale weddings – and young Phil was right behind them. Little did they know while their mixes muffled the sound of their baby brother, cousin, and nephew mumbling the words, "Can I try?" that the annoying little boy would find a way to practice and master the craft of DJing and become "DJ Philly C."
When a simple medical procedure turned into a series of severe surgeries, Phil endured a summer of being confined to the house. The recovery process was difficult, but much to his surprise he stumbled upon a mixer; a component of his father's home stereo that he never noticed was there. He finally had his chance to practice and perfect his skills. His passion for music, the hip hop culture, and DJing could finally be explored. He capitalized on this opportunity and completely immersed himself in the craft. The rest, as they say is history and led to who is now DJ Philly C, the tri-state area's best kept secret.
The Illharmonic Orchestra
Jack Drummond is a leader, administrator, advisor, adjunct professor (Lincoln University), and violinist. Trained in the public school system, Jack's violin playing has given him the privilege to perform on the streets of Philadelphia and has taken him to places like Carnegie Hall as well as international venues. Through music, he's also been afforded the opportunity to play with greats like Patti Labelle & John Blake, and Thee Phantom. Additionally, Jack is the Directing Manager of his company Collage Of Talent, LLC. - a company geared towards supporting artists and community action.
Kenneth Bean is an instructor and conductor in the Philadelphia area, as well as an active freelancetrumpeter. He earned a Bachelor of Music from the Oberlin Conservatory of Music and a Master of Music Education from Jackson State University. He has taught at many festivals and schools, including The School District of Philadelphia, St. Francis de Sales School, The Premier Orchestral Institute of the Mississippi Symphony, Luzerne Music Center and Kinhaven Music School where he currently teaches trumpet and serves as Conductor of Chorus and Orchestra for Junior Session.
In Kenneth's conducting experience, he was the Associate Conductor of Philadelphia Youth Orchestra and served as substitute conductor for Mississippi Youth Symphony Orchestra, Assistant Conductor for the Northern Ohio Youth Orchestra and the Junior String Philharmonic of the Lehigh Valley. Currently, he serves as Music Director/Conductor of the Young People's Philharmonic of the Lehigh Valley and Director/Conductor of the Philadelphia Young Musicians Orchestra. Kenny also serves as the Assistant Conductor of Symphony in C, is Co-Director of Symphony in C's Summer Music Camp and is Music Director of Symphony in C's Youth Orchestra.
Born and raised in Denver, Colorado, Jordan Celeste Pettis fell in love with the sound of the violin during her middle school and has . She graduated from the renowned Denver School of the Arts majoring in classical violin and jazz voice. She studied under Ms. Eugenia Alikhanova, first violinist of the Moscow String Quartet. This rigorous training prepared her for a musical journey where she has performed with the Boston Pops, members of the Chicago Symphony; and many other collaborations from classical to funk to hip-hop, and more. After graduating from Illinois Wesleyan University with a Bachelor of Music Performance Degree in 2012, she moved to Boston in 2013 to study Jazz Voice and Jazz Violin at the New England Conservatory of Music- receiving a Certificate of Jazz Performance in January of 2015.
In 2015, Jordan became a member of the Ill-Harmonic Orchestra and has performed with them at the Tobin Center, the Kennedy Center, and Carnegie Hall among other fantastic venues.
Yoomi currently lives in Philadelphia, where she attended the Boyer School of Music at Temple University. She enjoys playing all genres of music.
Yoomi performs regularly with the Illharmonic Orchestra, Stroke Trio, Settled Arrows in addition to various solo and group projects.

Mother of 2 cats and also enjoys crocheting and knitting.
Chrysyn Harp is an International Chamber and orchestral violist, performing in Switzerland, France, Norway, Germany, Denmark & Sweden. Ms. Harp received her Bachelor in Music from Mannes College of Music where she studied with Lillian Fuchs and Karen Ritscher, and her Master of Fine Arts Degree from the State University of New York at Purchase, where she was a graduate fellow and student of Ira Weller. While studying at Yale University, Ms. Harp received her Master of Music degree where she was the teaching and faculty assistant of Jesse Levine. Ms. Harp is currently a member of the viola and violin faculty at the prestigious Settlement Music School in Philadelphia.
James Auburn - Piano/Keyboard
James' tastes and abilities are as diverse as his resume. He has performed at Carnegie Hall and played for/with Ernie Isley, Lisa Fischer, and opened for Pop/Rock artists Joan Jett and Richard Marx, R&B artists RES and Amel Larrieux, Hip-Hop artists Edo G., Royce da 5'9" and Joe Budden, and played Motown classics with Berry Gordy in the audience.
Jamal Jones is a Philadelphia native composer/arranger and trumpeter. He is University of the Arts alumni, where he majored in Trumpet Performance. Jones graduated amongst the top of class, receiving The Director's Award, The Mary Louise Beitzel Award for Excellence in Jazz Studies and The Trumpet Performance Award. In September of 2007, he moved to Holland to pursue a M.M. in Jazz Composition & Arranging from The Conservatorium van Amsterdam to advance his style of composition and develop an international perspective of the art form.
During his two year stay in Amsterdam he performed, composed and recorded with original ensembles of his own (varying from jazz septet to full big-band) and also for fellow colleagues and jazz orchestras throughout the Netherlands. Throughout his career he has worked with John Swana, Archie Shepp, The Amsterdam Jazz Orchestra, Orrin Evans and the Captain Black Big Band, Donnie McCaslin, Ursula Rucker and the BMI Jazz Orchestra, among other notable musicians. Performance venues such as Carnegie Hall, the Bimhuis, Kimmel Center and the Amsterdam Blue Note have featured arrangements and compositions of Jones', as well.
Charles Jourdan - Double Bass / Electric Bass
Charles Jourdan is a multi instrumentalist and music educator from Queens, NY. He performs with many other acts such as his solo project; Experimental Soul, Black Tie Brass, and Sal "The Voice" Valentinetti. Charles has been rocking with the Illharmonic since 2009.
Born in 1993, Alan Lawson has always had a love for music. At the age of 1, he asked his parents for a violin, but they were advised to wait until he was older. In 1997, Alan was finally granted his wish and began playing the violin at the age of 4 and around the same time, he also began composimg.

In 2015, Alan traveled to New York City to perform as a member of The Illharmonic orchestra at Carnegie Hall.

As a lover of all music, Alan has been given many opportunities to continue to bridge the gap between hip-hop and classical music.
In 2017, he performed his own original composition, Dreams, with the CSO Nouveau Chamber Players at the CSO's annual Classical Roots Concert and in 2018, he was given the opportunity to rap with the CSO for their Young People's "Express Yourself" Concert. In addition to that, Alan also rapped with the Cincinnati Pops for their "Mozart's Neighborhood" concert, as a part of the Lollipops series.

Alan has been blessed with the opportunity to perform in many amazing places around the country, such as The White House, The Lincoln Center, Cincinnati Music Hall, Disney World and Carnegie Hall, as a member of the Illharmonic Orchestra.
Tauhida Smith - Violin/Viola
Tauhida "Tah" Smith is a professional musician from Philadelphia, Pennsylvania. She started playing the violin in her early youth and has studied at various schools in the Philadelphia area such as Settlement Music School, Temple University's Music Preparatory School as well as Temple's Music Scholars Program, the Girard Academic Music Program, and Millersville University. She began studying the viola in her later adolescent years. Professionally, Tah acknowledges herself as a String Artist. Her artistry as a classical/contemporary violinist/violist has tremendous range and afforded her many opportunities to play with several orchestral groups, quartets, recording artists, and producers. Tah currently plays with the Illharmonic Orchestra and Stroke Strings
Ian Saunders - Double Bass
A multi-faceted musician, Ian Saunders enjoys an exciting career as a sought-after bassist and educator. The Virginia native began his studies with Christopher White, principal bassist of the Virginia Symphony, in his hometown of Norfolk. Within a year he received his first major scholarship from R&B legend Ben E. King. Saunders completed his bachelor's degree under the tutelage of renowned bassist Robert Nairn at the Pennsylvania State University. Saunders continued his graduate studies under Nairn while fulfilling numerous professional engagements.
In 2016, he received his doctorate from the University of Maryland while studying with Robert Oppelt, principal bassist of the National Symphony Orchestra. Soon after graduation, Saunders was accepted into the prestigious Diversity Fellowship program with the Cincinnati Symphony Orchestra and Cincinnati College-Conservatory of Music in the Fall of 2017.
Somer Jordan, formerly known as The Miss Black America Pennsylvania of 2017. Somer is a 24 year old Philadelphia native. She is a violinist of 17 years and currently plays a 200 year old violin named Hazel. Somer is an Eastern University alum with a B.A. in Entrepreneurial Studies. Through her degree, platform, and musical influences, Somer strives to empower young world changers through her personal faith, art, mentorship, and entrepreneurship.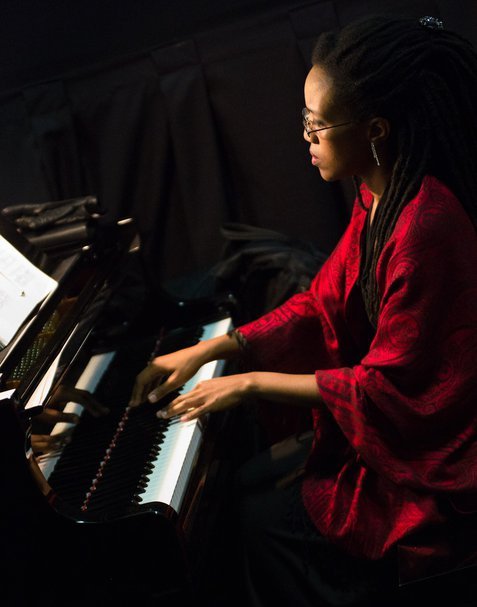 Nikki Birdsong is a collaborative pianist based in Austin, Texas. Her credits as a musical director include productions with One Ounce Opera, Austin Summer Musical for Children, and kidsActing Studio. Currently, she is the principal pianist for Young Voices of Austin, and is a frequently requested alternate pianist and choir director for local churches of varying denominations.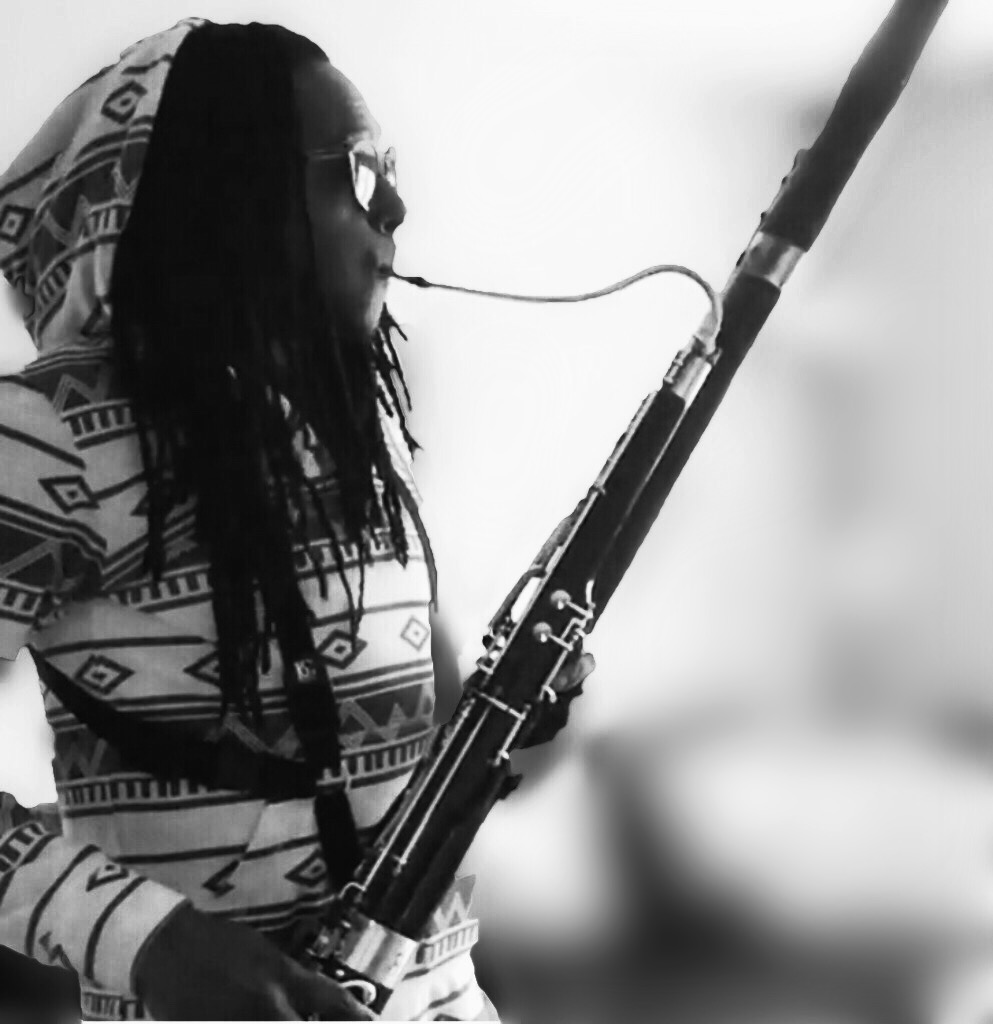 Garrett McQueen - Bassoon
A proud native of Memphis, TN, Garrett McQueen has performed in venues across the country, including Los Angeles' Disney Hall, Detroit's Max M. Fischer Music Center, and New York's Carnegie Hall. As well as performing as a member of the South Arkansas Symphony, Jackson Symphony, American Youth Symphony, Memphis Repertory Orchestra, the Eroica Ensemble, and most recently, the Knoxville Symphony Orchestra. He has worked with groups including the Sphinx Symphony Orchestra, Memphis Symphony Orchestra, the Southeast Symphony, the Artosphere and Gateways Festival Orchestras, the St. Paul Chamber Orchestra, the Louisville Orchestra, and the Detroit Symphony Orchestra.
Garrett is currently the national host and producer of "Music Through the Night" from Public Radio International and American Public Media, and continues to perform with ensembles across the country, and around the world.
Corina Santos is a violinist and music educator from Austin, TX and studies under professor Sandy Yamamoto at the University of Texas at Austin. Recently, she completed a year-long teaching assistantship in the San Francisco Bay Area with renowned violinist Elbert Tsai. Corina has held the position of Assistant Principal Second Violin with the University of Texas Symphony Orchestra and the Butler Opera Center, and has also performed as a substitute with the Round Rock and Temple Symphony Orchestras. She has worked with acclaimed violinists and teachers such as David Kim, Laurie Smukler, Danielle Belen, Sally O'Reilly, pianist Rohan de Silva, and members of the Miró Quartet. As an avid teacher, she has served on the faculty of the Music Mission San Francisco and the University of Texas String Project, teaching early childhood music, theory, orchestra sectionals, and group and private violin lessons.
As an Andromedorian ambassador, the Council trusted that Sean Schulich's flute playing was the wisest way to translate the Message to Earth's population. It was determined that honing his skills at Juilliard, Tufts and Yale was the best route. Having agreed that performing with the Dirty Dozen Brass Band, the Funky Meters, Meshell Ndegeocello and Charles Neville was the best way to spread the Message, he was put on stage at NOLA's Jazzfest, the Blue Note in New York, the Mint in LA . . . and with the Illharmonic at Carnegie Hall and the Kennedy Center. Releasing 2 instantly classic House tracks, Sean Schulich's genre-defying music continues to delight audiences here on Earth and across galaxies throughout the Universe.
Beginning at age 6, Brynna took piano lessons and later picked up the cello at age 11. She continued practicing and competing with both of these instruments until college where she graduated from UT Austin with a major in Biology and minor in Violoncello. Post graduation, she started working at the Seton hospitals in Austin and kept music in her life through various performances, including those with Thee Phantom and the Illharmonic Orchestra, and teaching middle school cellists. Most recently, she began volunteering with Kids In a New Groove where she provides cello lessons for children and teens in foster care. When not at work or volunteering, she enjoys spending time around animals and aspires to have a career related to teaching or in veterinary medicine.
Brian Raphael Nabors - Piano
Brian Raphael Nabors is a composer/pianist of emotionally enriching music that tells exciting narratives with its vibrant themes and colorful harmonic language.
Dr. Nabors has been commissioned by the Cincinnati Symphony Orchestra, Atlanta Symphony Orchestra, has worked with the Detroit Symphony Orchestra, as well as performed at many events across the US, including the Texas Music Educators Association Conference (TMEA), the Midwest Composers Symposium, and the International Double Reed Society Conference (IDRS). He has also been performed by artists such as the Detroit Chamber Winds & Strings, Atlanta Chamber Players, and Unheard-of//Ensemble.
With an eclectic musical palate and crafty compositional technique to match, Nabors' music draws from combinations of Jazz/R&B with the modern flair of contemporary classical music. This interesting blend of sound worlds is one that continues to craft his unique musical voice.
He was named the 2018-19 Composer-in-Residence with the Castle of Our Skins organization, a 2019 composer fellow in the American Composer's Orchestra Earshot readings with the Detroit Symphony Orchestra, a 2019 composer fellow with the Nashville Symphony Orchestra, and 2019 cycle five grand prize winner of the Rapido! National Composition Contest by judges Robert Spano, Jennifer Higdon, and Michael Gandolfi. Nabors is also a 2019-2020 Fulbright scholarship recipient to Sydney, Australia, studying with composer Carl Vine at the Sydney Conservatorium of Music.
Nabors holds a Bachelor of Music degree in theory/composition from the School of the Arts at Samford University, and both a Master of Music and Doctor of Musical Arts degree in composition from the College-Conservatory of Music at the University of Cincinnati.
Leanne "L-Stringz" Holmes is a Hip-Hop/RnB violinist from Atlanta, GA. Classically, trained for 13 years, L-Stringz has performed for and with some of the top venues/artists to date including: The Atlanta Hawks, The Atlanta Dream, The Harlem Globetrotters, Honda Battle of the Bands, 2Chainz, 50 Cent, and joined the Illharmonic Orchestra in 2017. Additionally, L-Stringz has been featured on Married to Medicine Season 5 "Mama Drama" and featured on the Season 3 finale episode of "STAR" on Fox "When the Levee Breaks".
Jonathan Griffin is a musician fueled by 20+ years of diverse experience creating a synergy between people, places and music. He started his carreer while at NOCCA (New Orleans Center for Creative Arts) and taking local education tours in New Orleans. Throughout his college years at Florida State University he gigged with several regional orchestras throughout the area and played school recording studio for young artist and film scores. While briefly living in Spain, Jonathan played in chamber groups. Jonathan has also had a second career, in tandem with music, in event planning, public speaking and Training for 15 years. Additionally, he has developed study tours, seminars and online courses. Upon moving to Texas, Jonathan has had on continued performances with lots of orchestras, quartets, praise groups and teaching. His combined experience in the business lecturing and music performance has given him the facility integrated various experiences while creating new ones.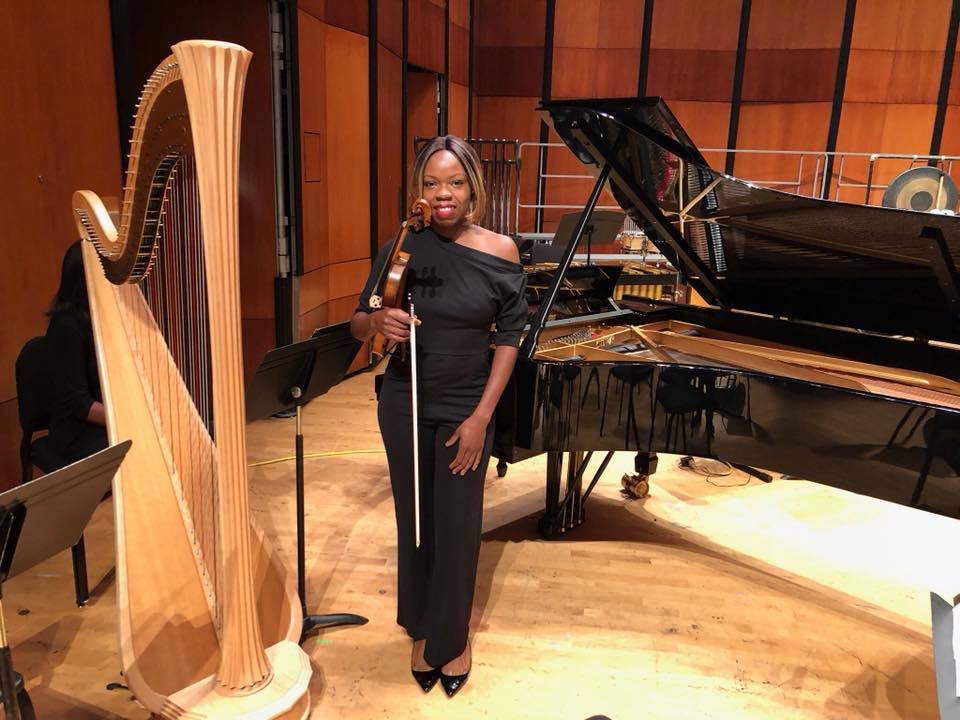 Kanyinsola Ojo began playing the violin at the age of 9. A year later, she was awarded a scholarship by the College Station Independent School District and the Interlochen Arts Academy to attend the prestigious Interlochen Arts Camp. She completed a Bachelors of Science in Political Science at Clarkson University while simultaneously furthering her violin studies at the Crane School of Music with John Lindsey, Concertmaster of the Orchestra of Northern New York. She is currently pursuing a second bachelor's degree in Violin Performance at the University of Houston Moores School of Music, under the tutelage of Mr. Andrzej Grabiec.
Sabrii Anderson - Multi-Instrumentalist
Sabrii Anderson is a composer and arranger born and raised in Houston, Texas. Starting his classical music studies in middle school, he learned to play different woodwind instruments and composed his first works for wind ensemble at the age of 14. Sabrii went on to perform for the Honors Performance Series in Carnegie Hall, and with the American Festival for the Arts where he was chosen as their 2014-2015 Young Artist Winner, performing as a representative for them around the greater Houston area. While studying at the University of North Texas and back in Houston, Sabrii has been part of many jazz shows and performances. Sabrii has had the opportunity to work with artists such as Julie Giroux, Richard Lavenda, Thee Phantom, Guilla, and other composers and music producers. He now performs and teaches woodwinds in the Southwest Houston area.
Stephan Fillare made his New York City debut conducting the world premiere of Bruce Saylor's Adagio for Orchestra . Under the guidance of Maurice Peress, Mr. Fillare worked as an Assistant Conductor for Bernstein's MASS. Last Winter Mr. Fillare could be seen as Music Director for New Camerata Opera's Double Bill Production of Gustav Holst's Sāvitri and John Blow's Venus & Adonis. Other engagements include Conductor for the Marriage of Figaro with Manhattan Opera studio, Guest Conductor with Golden Rose Opera, and his Staten Island debut conducting a concert of arias and ensembles with Belle Nuit. This season he continues as Assistant Conductor of the New York Repertory Orchestra and where he will conduct Haydn's Symphony No.19. He has also been invited back to Manhattan Opera Studio to conduct a production of Mozart's Die Zauberflöte.
Mr. Fillare keeps an active career in New York City as a violinist. He was appointed Concertmaster of the Livingston Symphony in New Jersey in January 2019. He can also be seen as concertmaster with the New Amsterdam Opera Company, New York Repertory Orchestra and Manhattan Opera studio. Last November, he was Concertmaster as well as Assistant Conductor for New York Concert Opera's inaugural performance of Puccini's La Boheme.
Stephan studied conducting with Anthony Hose and violin with Routa Kroumovitch-Gomez while he was attending Stetson University in Deland, Florida. He received his Bachelor of Music in Violin Performance from Stetson University in 2012. He began studying with Maurice Peress in New York City in 2012, and received his Master of Arts in Instrumental Conducting from the Aaron Copland School of Music in 2014.
Kevin Phillip Jones - Cello
Virginia native Kevin Phillip Jones began his cello studies with Alice Glasco and Virginia Symphony cellist Janet Kriner.
At Old Dominion University, Kevin began studies with Carter Melin, and continued with Leslie Fritelli. In summers past, he has studied at The North Carolina School for the Arts, The National Symphony Orchestra Summer Music Institute at The Kennedy Center, Aria International Music Festival, and The Meadowmount School of Music (NY).
Kevin currently resides in the Washington D.C. metro area, where he was recently soloist with the DC Strings orchestra. He performs with several opera companies including Maryland Lyric Opera, and Washington Opera Society. In addition, he has performed with jazz luminaries like Chelsey Green and The Green Project, and Noble Jolley. For the last two years, he has been a performer in The Pansy Craze variety burlesque show, as well as its house band GYNOCEROS—which recently appeared at the Shenandoah Fringe Festival in Virginia, and he recently completed a Professional fellowship with Hawaii Performing Arts Festival. This year has twice brought him to NPR's Tiny Desk series for "All Songs Considered": performing with hip-hop vocalist Mumu Fresh, aka Maimouna Youssef in July, and with Wu-Tang Clan's The RZA in November; in addition to the Distant Worlds Final Fantasy Orchestra, with ‪Nobuo Uematsu‬; the Game of Thrones orchestra tour with series composer Ramin Djawadi, and Father John Misty's 'God's Favorite Customer' tour. Kevin was most recently a guest soloist with the Colour of Music Festival Orchestra in Charleston, South Carolina.
Ari Burns is a trumpet player and producer based out of Austin, Texas. His work can be heard with many hip-hop, jazz, and R&B groups such as Soul Food Horns, Chucky Blk, Magna Carda, and many more.